Designing the backyard living space in a way that you will enjoy every ounce of every season, all year around, is a must if you love spending time outdoors. Or if you find it hard to wave goodbye to the hot months of the year.
So, if you are considering building an outdoor kitchen – hence, spend quite some time in the backyard, extend this period by finding your way of heating up the area.
Yes, if the climate in your location is mild, a blanket may do the trick. But that's when you are alone or with the family. How about when you have friends over – people who want to enjoy their dinner without being cuddled up in a blanket? Well, be happy because there are quite a few good solutions to heat up the outdoor cooking area.
An outdoor fire pit will do, won't it?
An outdoor fire pit can be the centerpiece of your backyard, especially when it gets chilly. Although portable, it's rarely moved. You can build a round bench and keep in the middle or place it close to the dining table. Or maybe, somewhere between the outdoor kitchen countertop and the seating area. You can even have a small firepit built directly on the dining table, right at the center of it and thus, feel completely cozy as you enjoy the meal.
Or would you prefer an outdoor fireplace?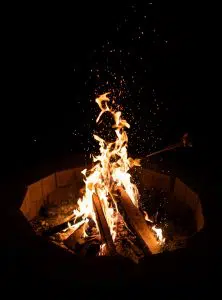 An outdoor fireplace is always an excellent option. That's a more permanent structure but one that can truly transform this section of the backyard into an outdoor living room. Whether it's made of concrete, stone, brick or another material, it will certainly be the focal point of the backyard. You just need to consider its location in accordance not only with the outdoor kitchen but in terms of where it blows its smoke (so that you will not have problems with your neighbors), while you need to consider if there are trees hanging over it.
How about a portable fireplace?
If you don't like the idea of a firepit or the permanence of a fireplace, why not get a portable fireplace? It's actually a nice way to make the outdoor living space particularly modern since there are some fabulous designs.
Have you thought about a heated floor?
Did you know that even some outdoor floors can be heated? Although a heated floor won't suffice for the cold season, it will still warm up the area, while it will also serve by melting the snow quickly.
Did you cover the outdoor kitchen?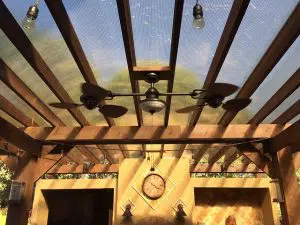 While heating sources can create the ideal conditions for the entire year, you will be better protected from the elements if the outdoor kitchen and the entire seating area around it are all covered. The choices? You can cover with a gazebo or concrete. You can also hang insulated drapes or just curtains that will cover the whole perimeter – from one pillar to the next, and thus, protect you from the cold and the rain. If there's a roof and some form of portable walls or shutters around the outdoor kitchen area, there'll be enough protection from the elements. That combined with some heater will make a difference.
How about getting heat lamps?
The advantage of heat lamps is that they are portable. Also, they hardly occupy much space. It's no wonder that most restaurants and cafés use them outdoors. And you can use them at your home's backyard too. While there are variations among them, a standard heat lamp may warm up an area of approx. 25 sq. ft.
Now, if you also add a nice rug and some throw blankets, you can easily have the warm feeling you get indoors – just under the stars. Isn't this magic?