Yes, everyone loves ample space, especially when it comes to the backyard of the home and particularly if you want an outdoor kitchen built. Does that mean that small backyards don't deserve a kitchen and dining area? Quite the contrary. Limited spaces can enjoy the same privileges with big yards – just in a more compact form but without any compromise when it comes to the small outdoor kitchen design. Should we dig deeper?
You see that little corner over there? That's your outdoor kitchen location
With a small backyard, every inch counts. Even a truly limited space can be used wisely by an experienced outdoor kitchen builder. After all, the main things you need include the outdoor kitchen countertop along with a sink and some kind of a cooking appliance. That's the minimum one needs to have a small outdoor kitchen. Now, depending on the space available and the shape of the given section, one can build up on amenities, like getting an outdoor fridge, creating some storage space, making the countertop a bit bigger.
For example. The outdoor kitchen countertop may turn, creating a corner. And so, one side can be used for cooking and one side for serving. Or you might have enough space for a square countertop – something like a big kitchen island, where you cook on one side and eat on the opposite side.
Is the backyard even smaller – 7'x7′ small?
If you consider that the essentials of a full outdoor kitchen are limited to the countertop, sink, and main appliances, even a 7'x7′ yard would be more than enough. You simply add a small outdoor bar with stools and thus, create your comfort zone – tiny but still convenient.
The most important thing about the outdoor kitchen?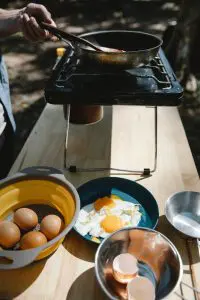 If we exclude, the cooking appliance – hence, the reason you want the outdoor kitchen anyway, the next most important part of this structure is the countertop. You need counter space to prep food and thus, enjoy the backyard. What's the point of preparing everything indoors? And so, if there's not enough room for both the counter and the seating area, prefer the former. You can always use the same counter as the dining table.
How about the storage space?
Creating storage room is truly easy. Although it will depend on the outdoor kitchen design, the space under the counter – even if it's limited, can be used as storage room. After all, you want to keep the essentials outdoors – not everything found in the indoor kitchen. And don't forget that when you cannot use space horizontally, you can go vertically.
In fact, you can create an outdoor kitchen covering with shelves that will protrude on all sides, offering protection from the elements and giving you ample storage space. If there's space for quite a big covering, you can also use this structure to hang items – something like indoor kitchen ceiling hanging racks.
Your small outdoor kitchen can be functional & beautiful
If you consider how much space a grill or outdoor oven occupies and all you need extra is some counter space, it's easy to realize that a kitchen can be built at any size backyard. In fact, some small outdoor kitchens are extremely beautiful since the homeowners invested in the design and the materials instead of the size.
There's a lot of ways to make this outdoor area really attractive, keep it protected from the bad weather, and have the amenities bigger structures have. Focus on the counter space, use natural materials, hang some great outdoor lighting, bring color with accessories and if you don't have enough room for a dining table, some floor seating may also do. The counter may also work for you. Truly, there are solutions for all backyards.