What's the most difficult thing you have to do when planning to build an outdoor kitchen? Deciding on the counter material. What makes this task so challenging? Outdoor kitchen countertop materials must be food safe, easy to maintain, within the family's budget, long-lasting, and resistant to the elements. Oh, yes, you must also like the color, style, design.
Don't get disappointed just yet! There are quite a few materials that would make an excellent choice for outdoor kitchens and while they all have their advantages and disadvantages, you do have a choice. And that's a good thing. Should we take a look?
Concrete – for seamless outdoor kitchen countertops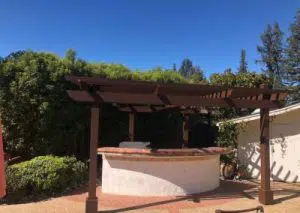 One of the greatest advantages of concrete is durability. Concrete is made of cement, water and aggregates. Since it can be formed into any shape, it gives you the chance to think out of the box – as far as the outdoor kitchen design is concerned. But this is a great choice for those who don't look for perfection, in terms of appearance. It'll be ideal though for those who want a seamless countertop. And while concrete can be tinted to the color you like, the color may fade overtime. The major disadvantage of concrete? There might be some imperfections or cracks over the years, but such things are also subject to the installation. Make sure you find an outdoor kitchen builder with experience in working with concrete. It's also porous – thus, must be remain sealed, and doesn't come cheap.
Granite – the beautiful, long-lasting choice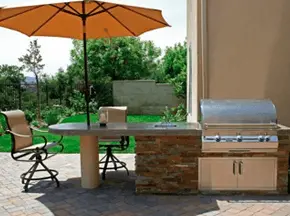 As a natural stone, granite is as strong as a rock. It is. Actually, it is – perhaps, the very best option for outdoor kitchen countertops due to its durability. To give you an example. The hardness of such materials is often compared with the knife's blade. Be sure to use a cutting board when you use a knife on the granite countertop. But hear this, not to protect the countertop but the knife's blade. That's how bulletproof granite is. And that's not all.
Granite is heat resistant. It's also stain resistant but only if it's properly sealed. And this is probably its major downside. It must be sealed since it's porous. But if you don't mind that, it will be highly hygienic too. Another consideration? It's one of the most expensive countertop materials.
Soapstone – the best choice for outdoor kitchens
While not all soapstone slabs are created equal, this is one of the best choices for outdoor kitchen countertops. Let me explain. Soapstone is a metamorphic rock, which contains various minerals and talc. Now, the proportions determine the hardness of the rock. The more talc, the softer. Although you should ask your outdoor kitchen contractor about that, it's good to know that the hard soapstone rocks are usually used for the construction of countertops.
With all that said, let's move on to the main advantages of soapstone. Apart from being really durable, it's also dense and non-porous – so, you can forget about sealing the countertop, it's easy to shape, it's resistant to heat and acids – hence, germ-free.
So, is soapstone perfect for outdoor kitchen countertops? It almost is. What's the catch? Soapstone is susceptible to scratches – although they can be sanded and thus, fixed, unless you like the wabi-sabi look. Overtime, the colors darken but you can keep them intact by applying mineral oil every few years. If you intend to get slabs larger than 7′, there'll be seams – although they can be covered to nearly disappear. Price-wise? It's not cheap, but not as expensive as granite. We told you – soapstone is quite an excellent choice.
Tile – the affordable countertop option
Tile is always a good option if you want to keep the outdoor kitchen building cost down due to the material's low price. As for the appearance, there's a big list of colors and designs to meet all styles. So, there's no concern about that either, unless you hate the seams created with grout. And this is actually the worse problem when it comes to tile surfaces. Grout is absorbent and so, it needs to be cleaned often and sealed once in a while. If not, it will be stained and won't be entirely food safe. During extreme temps, tiles may crack. But the good news is that they can be replaced quickly.