Found at the top of the list of best decisions for truly livable backyard spaces, outdoor kitchens are a fantastic way to spruce up the environment and get the absolute comfort you look for summer in, summer out. In fact, if you plan truly well, you can actually spend more time outdoors than indoors.
But as all things, not all outdoor kitchens are created equal. In this case, it's actually a good thing. Why? Simply because you have the freedom to choose an outdoor kitchen design that will best match your style. But let us assure you, that's hardly an easy feat – all the more, if you plan to keep it, enjoy it, love it for many, many years. Who wouldn't want that? Get ready for some tips that will help you think things over, before you even start looking for an outdoor kitchen builder.
Go beyond the aesthetics of the outdoor kitchen. Think function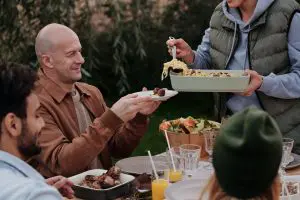 While tempting to focus on the outdoor kitchen design first, leave it for last. Finding the perfect match to your taste may matter enormously but truth be told, there are some other matters that have priority. Everything related to function. Remove function from the equation and you will end up with an inconvenient kitchen or an exposed-to-the-elements environment that won't be inviting at all. Who wants that?
Now, while the assistance of a professional outdoor kitchen contractor will make a difference, try to answer the following questions to start narrowing down options.
•   How often do you plan to use it?
It's totally worth investing in custom outdoor kitchens and actually splurge on outdoor appliances and big counters, but it all comes down to how often you plan to use it. Well, you may not know exactly yet, but think of how often do you gather with the family or friends for dinner? Are you passionate about cooking and having people over, or plan to cook once a year?
•   How big the family is?
Assuming you really want an outdoor kitchen and yes, you plan to use it as much as you can, consider your needs. Consider your family members, the people you usually dine with and then make decisions about the size of the countertop, the cooking and refrigeration appliances, the dining area. Cooking for three people is quite different than cooking for ten people. You will need different counter space, a bigger table, more chairs, a comfortable backyard living space.
•   Which are your cooking habits?
Will you need a grill? A pizza oven? A barbeque? There's quite a list of outdoor cooking appliances. So, you need to decide if you are the sausage, pizza, or gourmet kind of family – or even all of them, to get the right cooking appliance(s).
•   How much thought have you given to the materials?
Everything about the outdoor kitchen must scream durability and resistance. This is the duo you should focus on, when it's time to consider materials. Even if you plan to install the outdoor kitchen in a protected location at your backyard, it will still be exposed to the elements. You need materials that can withstand the hardship – anything from moisture and snow to extreme heat.
•   How close to nature are you willing to go?
While the whole point of building an outdoor kitchen is to enjoy the fresh air, the open space, and the natural environment, don't overdo it. You won't be able to enjoy any of that if you are getting wet or are cold. To prolong your staying outdoors and protect both your family and the outdoor kitchen from the elements, think shelter – built or pergola. Think about heat sources as well, something like an outdoor fireplace.
Now, think aesthetics – outdoor kitchen styles, colors, designs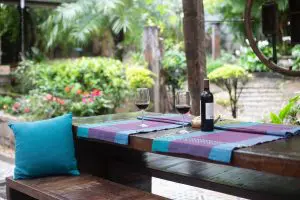 Once everything related to function is all set, you can start talking designs. Resistant materials don't imply boring appearance. In fact, some of the most wonderful materials ideal for outdoor kitchen building are extremely strong and resistant – something like stone, concrete, and brick.
To keep the outdoor kitchen as consistent and stylish as the indoor one, stay within the same color family or go wild with contrasts. If you like the industrial vibe, you are lucky. Stainless steel makes a great choice for outdoor kitchens due to its high resistance to the elements.
Outdoor kitchen lights and storage space for both function & form
The outdoor lighting and the storage space both serve two purposes, function and form. While lights primarily serve function – who wants to cook and eat in the dark, it also contributes to the aesthetics. And not only by choosing beautiful lighting fixtures but also the right brightness to enjoy at all moments, when you need task light and when you need ambiance light.
Something similar happens with storage room. The counter and all cabinets of the outdoor kitchen first and foremost serve function. But that helps you keep a clutter free outdoor kitchen – hence, keeping it looking good at all times.